Une bâtisse pleine d'histoire.
A mansion steeped in history.
Du 16ème siècle à aujourd'hui. From the 16th, till today
Une Batisse du 16ème siècle, qui devient une Magnanerie fin 18è. A 16th century building, which became, late 18th, a Magnanerie
La bâtisse en pierres des Alpilles, ses murs peints à la chaux, ses sols en terre cuite, ses escaliers façonnés par les pas des siècles, des souvenirs de familles un peu partout disséminés, les portraits des ancêtres... le présent et le passé se mêlent...
Selon les archives anciennes, la maison date du 16ème siècle.
C'est l'une, probablement l'une des plus anciennes maisons de Graveson. La maison des Seigneurs.
Au tout début du 19è elle est donnée en dote de mariage à Honoré-Xavier Coeur.
Une Magnanerie a été installée dans le grenier pour l'élevage des vers à soie et une filature de soie au rez-de-chaussée. C'est de cette époque que datent les "oeils-de-boeuf" du grenier, laissant passer air et lumiere pour l'elevage des vers à soie.
A cette époque, la soie fit la fortune de nombreux propriétaires de la région.
The building, made of Alpilles stone, its whitewashed walls, its terracotta floors, its stairs shaped by the steps of the centuries, family memories scattered all over the place, the portraits of the ancestors... the present and the past mingle...
According to old records, the house dates back to the 16th century.
It is one, probably one of the oldest house in Graveson. The House of the Lords.
At the very beginning of the 19th century, it was given as a marriage dowry to Honoré-Xavier Coeur.
A "Magnanerie" was installed in the attic for the breeding of silkworms and a silk spinning mill on the ground floor. It is from this period that date the "bull's eye" of the attic, allowing air and light to pass through for the breeding of silkworms.
At that time, silk made the fortune of many owners in the region.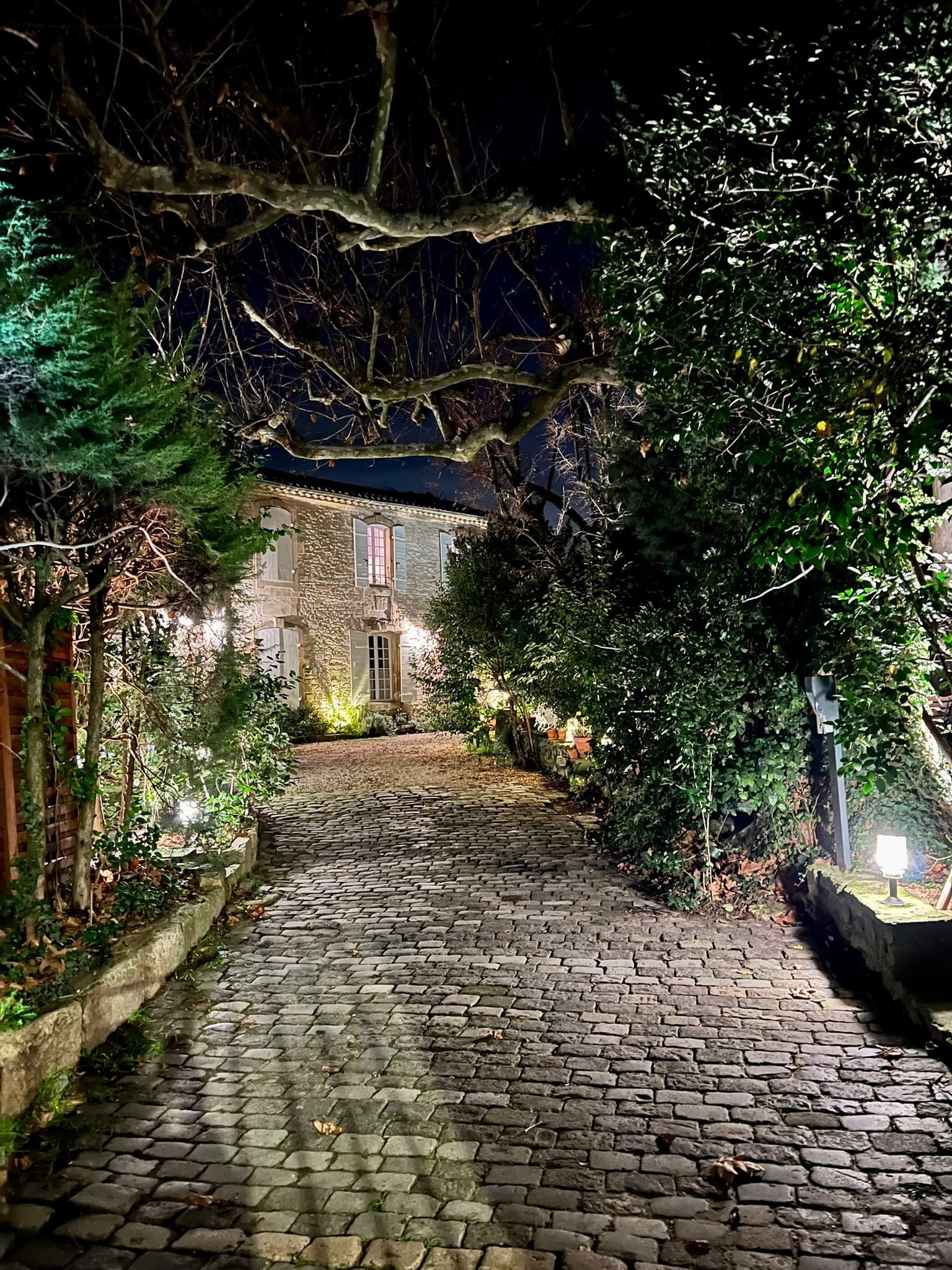 Puis un Relai de Diligence.
Un temps relai de voyageurs, entre Maillane, Graveson et Avignon, le service des voitures à chevaux, était fin XIXe aux mains des familles Cœur et Chamois (du Pape).
Un magnifique cadran solaire, gravé sur la façade principale en 1846, une vigie sur le toit permettant de scruter l'arrivée des attelages, et l'écurie à l'arrière de la maison, complètent le batiment.
L'administration Cœur arrêta ses activités entre 1915 et 1918.
Then, a former CoachHouse.
A time, relay for travelers, between Maillane, Graveson and Avignon, the service of horse-drawn carriages, was at the end of the 19th century in the hands of the Cœur and Chamois (of the Pope) families .
A magnificent Sundial, engraved on the main facade in 1846, a watchtower on the roof to watch the arrival of the dilegence hitch, and the barn at the back of the house, complete the building.
The "Cœur administration" stopped its activities between 1915 and 1918.
Ensuite une Auberge,
La Maison devint ensuite une auberge, puis un cabaret, donnant son nom à la rue.
Tout comme l'hôtel-café du "Petit St-Jean", une autre des plus vieilles auberges du village, citée au XVIe, (avec la Croix Blanche, le Lion d'Or et le Cheval Blanc,) qui étaient placées aux 4 entrées de Graveson.
Then an Inn,
The House then became an Inn, and a cabaret, giving its name to the street.
Just like the "Petit St-Jean" hotel-café, another of the oldest inns in the village, mentioned in the 16th century, (with the White Cross, the Golden Lion and the White Horse), which were placed at 4 Graveson entries.
Puis un Hôtel, au 21ème:
Successivement, elle devint pension de famille en 1980, puis petit hôtel de charme dans les années 2000, nommé à cette époque "le Cadran solaire".
Then, a Hotel, on the 21st:
Successively, it became a guesthouse in 1980, then a small charming hotel in the 2000s, named at that time "Le Cadran Solaire".
Et désormais, notre Maison :
Une maison d'hôtes pour vous accueillir lors d'un séjour en Provence, pour un moment de détente et de tranquilité.
And today, our House:
A guest house to welcome you during a stay in Provence, for a moment of relaxation and tranquility.